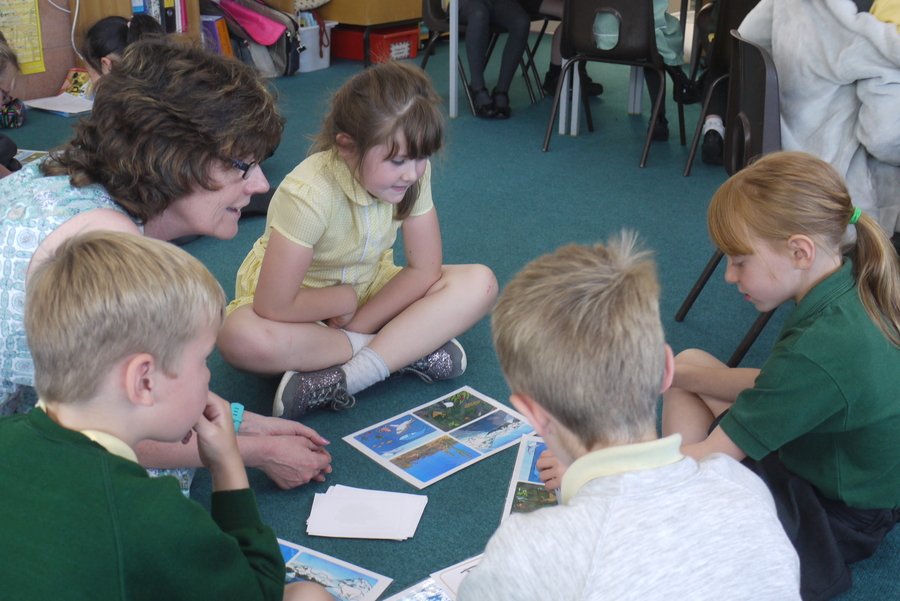 Governance
The Governing Body of All Saints School is a body of up to 12 members. Its purpose is to ensure clarity of vision, ethos and strategic direction, to hold the headteacher to account for the educational performance of the school and its pupils, and the performance management of staff, to oversee the financial performance of the school, making sure that money is well spent.
Our governing board currently comprises the following:
Suzie Walker is a Foundation Governor with a focus on Pupil Premium and Children we Care for.

Suzie is a human resources professional and works for a locally based law firm. Suzie lives on the Ladygrove estate with her husband and son who attends All Saints School.

Reverend Hugh Boorman (Foundation governor – appointed by Archdeacon of Dorchester) is a Foundation governor with a particular focus on Special Educational Needs and Disability, Inclusion and Religious Education. He is ordained within the Church of England and has lived on the Ladygrove Estate since becoming the minister of the Ladygrove Church (a Baptist/Anglican partnership) in 2005. He is blessed with a wife and four sons.

Sunil Choudrie is a Parent Governor and Vice Chair of the Standards Committee.


Sunil works for a global software company with a background in product management and marketing (holding both a degree in engineering and an MBA). Sunil lives in Didcot with his wife and both children attend All Saints, so he is naturally committed to seeing the school succeed.

Matthew Rowland-Jones is a Parent Governor and Vice Chair of the governing board. Matthew works in the sustainability field and currently provides environmental and sustainability leadership for a global education company. Matthew lives on the Ladygrove estate with his wife and two daughters, both of whom attend All Saints

School.

Sarah Bevan is a Foundation Governor and Chair of the Resources Committee.

Sarah is a Supply Chain professional responsible for leadership of large teams both operational and project based in the Pharmaceutical Industry. Sarah lives in Henley with her partner and has one son. She attends St. Margaret's Church, Harpsden.

Dave Worrall is a Foundation Governor and current Chair of the Standards Committee. Dave retired recently after a career in science and business/commercial management. He has interests in sports and travel. He is married with four children (the youngest attends All Saints) and lives in the Ladygrove area.

Elisabeth Anderson is a Local Authority Governor.

Elisabeth Anderson has worked in the school sector since 2007 and is committed to helping children access the best education possible. She recently moved to South Oxfordshire to join Radley College as Development Director, and is both delighted and honoured to join All Saints as a Governor and looks forward to getting to know the children and teachers in the coming years.

John Myers - Headteacher
Juliette Little - Staff Governor
We currently have Governor vacancies, please contact the school office if you would be interested in finding more about joining our Governing Board.
Clerk to the Governing Body
The roles and responsibilities of Governors:
Please click here to see further information about current and previous Governors and attendance.
Click here to see the Governors' Register of Business Interests.
The governing body monitors the school in light of OFSTED's four key performance criteria, reviews performance data, reviews and updates school policies (about 45 in total) and carries out classroom visits to develop members' knowledge and understanding of the school. It meets six times a year, with additional meetings with the senior leadership team to discuss data
and targets as appropriate.
Much of the work is undertaken by committees.
The Resources Committee is responsible for governance of the following areas:
Health, Safety and Environment

Human Resources (HR)

Financials

Premises and Grounds

Data and Information
The Standards Committee is responsible for governance in the following areas:
Pupil Achievement across all pupil categories (including SEND - Special Educational Needs and Disabilities)

Quality of Teaching

Educational and pupil welfare polices (such as Collective Workshop, Religious Education, Safeguarding)

Attendance
The Admissions Committee is responsible for:
School and Nursery admissions

Reviewing Admissions policy
Governor classroom visits are made throughout the year, to observe teaching practices, to help governors to become better acquainted with the curriculum and help them in their role as a 'critical friend' to the school's senior management team. Visits are structured around subjects to build understanding and improvements in the way each subject is taught across the school.